Dave Ramsey has helped thousands of people around the world through the 7 Baby Steps for financial peace and freedom.
The process works.
His book titled the Total Money Makeover has had some impressive sales numbers. The book has sold over 5 million copies and has been on the Wall Street Journal Best-Selling list for over 500 weeks. (That data is from August 2017, over 4 years ago, so it's sold more by now.)
So, we know that the 7 Baby Steps work. There's a lot to love above the process, and we will address 4 of those attributes here. We will also cover 4 things that we think could be updated this year (as it has been almost 30 years since the Baby Steps were created).
Quick Navigation
7 Baby Steps really do work. There are three great reasons why the plan actual works:
a. The Baby Steps Force You To Get Gazelle Intense When It Comes To Paying Off Debt
I'll mention this later, but I really appreciate that Dave Ramsey keeps the emergency fund smaller to force you to be gazelle intense. Having such a small emergency fund of $1000 really does force you to get out of debt faster because having too much money in the bank can cause you to stagnate.
b. Dave Strongly Encourages Your Behavior Modification
Too many financial gurus don't give it to you straight. They may tell you that you need to invest in real estate or cryptocurrency. It often feels like a lie that you can achieve financial freedom without putting in a lot of work.
Dave Ramsey comes off as blunt many times, but he forces people to confront that the debt is often our fault (with some exceptions). His bluntness, along with the Baby Steps, forces you to self-reflect.
c. The Plan Is Simple And Shows How You Need To Focus On One Step At A Time
I'll mention this more below, but it's evident that his focused intensity on the Baby Steps plan helps you stay focused on the task. You complete the first 3 steps consecutively and the following 4 steps concurrently in a prioritized order.
You don't have to multitask. Also, you don't need to think about another step. You just need to focus on the step at hand.
2) Dave Ramsey Is Right That You Need A Plan
Dave Ramsey has many helpful quotes. One of my favorite of Dave Ramsey's quotes is, "You must plan your work and then work your plan".
Too often we go through life without a plan, but we expect that everything is going to work out just fine. I remember the first time I budgeted. I thought that I spent a certain amount of money on eating out each month, only to realize that number was much higher.
We need plans. It could be a debt payoff plan to stay on top of your debt. It could also be a budget to understand your income and expenses. Or it could be a plan to pay off your home early as per Baby Step 6.
Dave Ramsey understood that which is why the Baby Steps plan is so useful. You stick to the plan and you get out of debt. Voila.
3) The Baby Steps Get Progressively More Challenging
One thing I noticed early was that the Baby Steps seems to get progressively more challenging. This helps build momentum. It is much easier to save $1000 than to pay off your house early. By starting and taking baby steps, the baby steps themselves actually don't feel very babyish.
Paying off your home early per Baby Step 6 feels much more like a big kid step, but it's still just a Baby Step like the others. It's impressive how Dave structured these baby steps.
4) The Community Around Dave Ramsey Baby Steps Is Incredible
You don't have to look far to realize that the community around Dave Ramsey is incredible. You can take a Financial Peace University class at your local church. These classes are excellent to encourage you and help keep you accountable while you eliminate debt. You'll learn the baby steps inside and out with others in your community.
You can also be a part of a vibrant Dave Ramsey Facebook Community. Personally, I am a part of many of these communities where I receive a ton of encouragement when sharing wins and losses in the process of debt elimination.
There's a lot to love about the Dave Ramsey Baby Step method.
Now, let's cover a few things that could use a refresh.
1) Can Creating A Budget Be Baby Step #1?
I am a budget fanatic. I would love to see a Baby Step dedicated to budgeting. Why? Because budgeting helps you understand where every dollar goes. I used "every dollar" like that on purpose because Dave Ramsey himself created a budget app called EveryDollar for that very purpose.
What better way to understand how much money you have to put towards your emergency fund than starting with a budget.
I am not sure why Dave doesn't start with a budget, but I would be keen to start the Baby Steps with creating one.
2) Dave Ramsey's Emergency Fund May Need A Refresh
Dave Ramsey's emergency fund calls you to save $1,000 in Baby Step 1. Is $1,000 enough? It really depends.
First, adjusted for inflation, $1,000 in 1990 is now worth $2,043.26 per the US Inflation Calculator.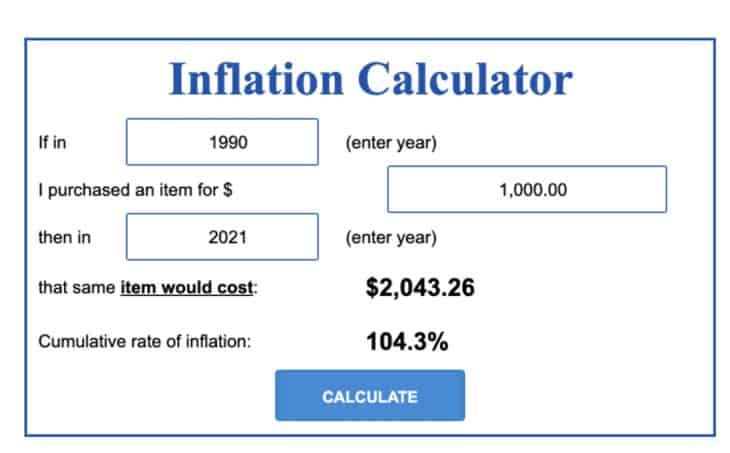 There's a plethora of questions you can ask yourself when considering whether the emergency fund is big enough, such as:
How much debt do you have to pay off?
Do you own a home?
How old is your car?
How many kids do you have?
Do you have insurance?
Another question I like to ask is, "where do you live?". Personally, my family and I live in the Bay Area, California where the cost of living tends to be quite high. $1,000 wouldn't get us very far.
3) Is The Snowball Method The Best Way To Pay Off Debt?
As a refresh, the debt snowball method means that you line up your debts from smallest to largest and pay your monthly extra to your smallest debt first then snowball into higher debts. The debt avalanche method is where you line up your debts from the highest interest rate and use your monthly extra to pay off the highest interest first. The savvy debt method is where you pay off 1-2 of your smallest balances first via snowball before reverting to the avalanche method to save the most in interest.
Dave Ramsey loves the debt snowball method. It has worked for many people, so why wouldn't he? He feels the opposite for the debt avalanche where he mentions that it doesn't work.
The challenge is that you could lose thousands in interest if your smallest debts also have the smallest interest rates. This can be possible because higher debt amounts carry a higher risk to the lenders, meaning potentially higher interest rates.
You can see how much the snowball method loses in comparison through this debt payoff calculator which compares interest paid from snowball to savvy methods. For reference, we are comparing 4 debts: $23,000 at 22%, $18,000 at 19%, $12,000 at 9% and $8,000 at 7% interest rate. The monthly payment is $1,825.00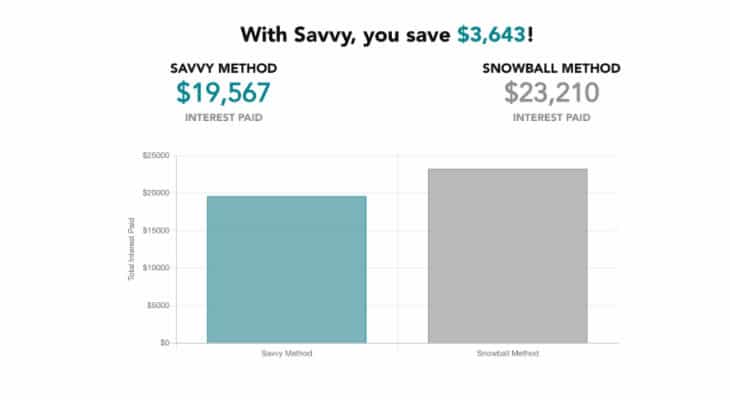 In this example, you would lose over $3,500 in interest by choosing the snowball method.
Does that mean that the snowball method is always worse? Absolutely not. The snowball method may provide the psychological benefit that you need to exterminate your debt.
You choose the debt payoff app and debt payoff method that is best for you.
4) Should You Follow Dave Ramsey's Advice And Pay Off Your House Early Or Invest?
Dave Ramsey loves mutual funds and paying off your home early. My question is what if your mutual funds are making so much more in interest than paying off your home would save you?
Wouldn't the prudent thing be to continue to pay off your home and then get the higher interest from investing in mutual funds? It's not a one size fits all solution, but it is something to consider.
There are also often benefits of not paying off your home early such as interest paid being tax-deductible. That said, you would really need to determine whether you would make more money from mutual funds than saving from interest payments to determine what's best for you.
What Do You Think About The Baby Steps?
The Dave Ramsey Baby Steps have helped thousands around the globe. What do you like about the Baby Steps? Do you agree or disagree with what we would change in 2021?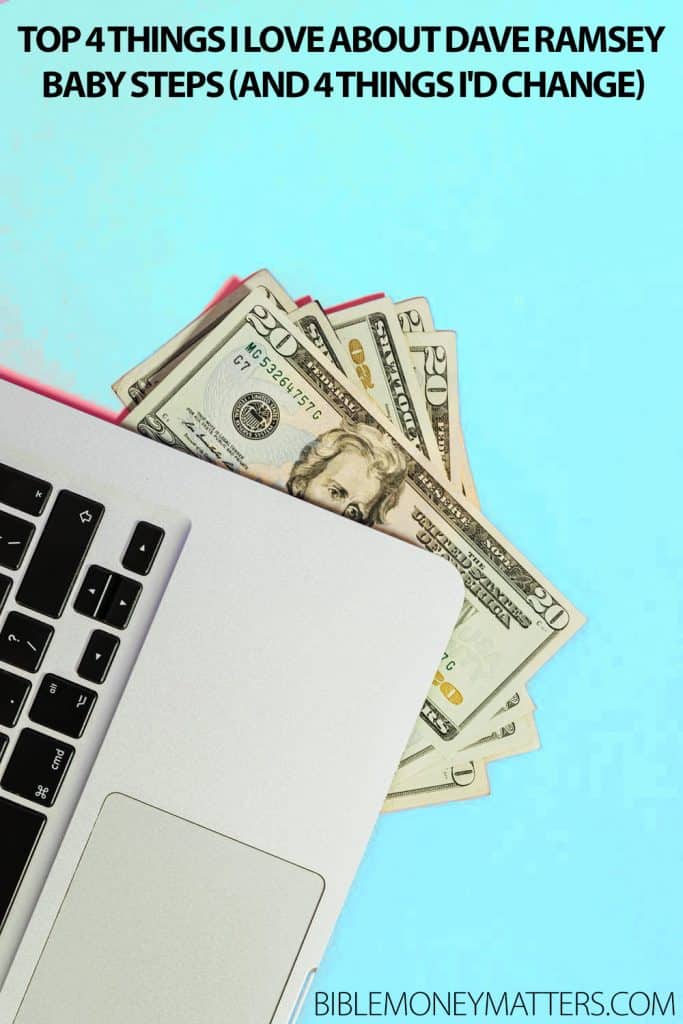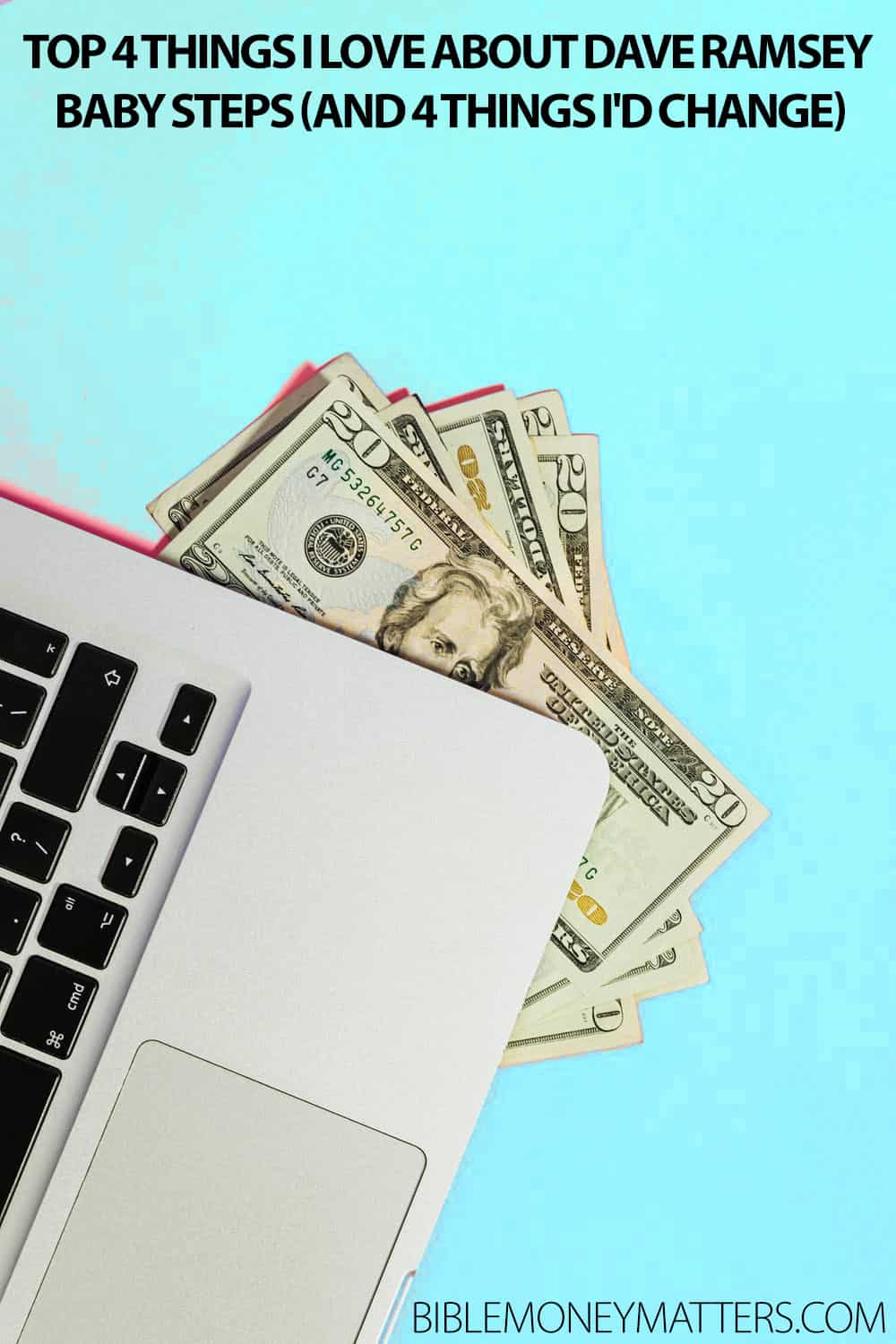 Source: biblemoneymatters.com
Are you cooking for fewer people these days? Once the kids grow up and move out, family meals fall by the wayside. For some reason, it's just not as much fun to cook for one or two people, and you'd much rather eat out or order in.
Of course, restaurant dining comes at a cost. During 2019, American households spent an average of $3,526 on food away from home. For those on a fixed income, the expense of eating out is even harder to swallow.
To make it easier, we've rounded up several restaurant chains across the country that offer "senior" discounts. Many of these deals are available to diners 50 years old and up.
We recommend asking your server or calling ahead to confirm any promotions. Keep in mind, you may need to present an ID or sign up for a loyalty program to be eligible.
1. IHOP
The pancake house has a dedicated 55+ menu, which offers select breakfast, lunch and dinner dishes at a lower price than the regular menu.
2. Denny's
Check out the Denny's 55+ menu for breakfast, lunch and dinner specials at reduced prices. (Enter your ZIP code to see the 55+ menu of your local restaurant.) In some cases, the 55+ entree saves you more than $2. Prices and selections may vary by location.
If you are an AARP member, you can save 15% on your entire check at Denny's. (For more such deals, skip to the "AARP member discounts" section of this article.)
3. El Pollo Loco
At El Pollo Loco, diners 60 years of age and older are eligible for 10% off their order. Ask the cashier about the offer before you check out. Note: The maximum discount value is $1.
4. Cicis
Cicis does offer discounts for seniors, military personnel and large groups. However, the discounts vary by location because most Cicis restaurants are individually owned. Ask your nearest Cicis about their special savings offers.
5. Chili's
While there's no company-wide policy in place, some Chili's locations offer discounts to senior citizens, military members and uniformed officers. Contact your local Chili's to find out if it participates.
6. McDonald's
McDonald's says certain franchise locations may offer a special discount for seniors. Contact your nearest McDonald's store to find out more.
7. Applebee's
An Applebee's spokesperson tells Money Talks News that there is no national offer for seniors, but you can call your nearest Applebee's for specific deals available at that location.
8. Golden Corral
Select Golden Corral locations offer senior specials, so ask your nearest restaurant if it participates. No matter where you live, though, additional savings and rewards are available when you sign up for the Good as Gold Club. Check off the box that indicates "Seniors (60+)" so you can start receiving news and promotions most relevant to you.
AARP member discounts
As soon as you turn 50 years old, you're eligible to become a full-fledged AARP member. While there is an annual fee, the membership unlocks countless discounts on everything from hotels to health care.
AARP has also partnered with over a dozen restaurants to offer exclusive members-only discounts. Below are the ones currently listed on the AARP website.
Bonefish Grill: 10% off dine-in food and non-alcoholic beverages
Bubba Gump Shrimp Co.: 10% off food and non-alcoholic beverages
Carrabba's Italian Grill: 10% off dine-in food and non-alcoholic beverages
Chart House: 10% off food and non-alcoholic beverages
Corner Bakery Cafe: 10% off your total check, excluding delivery orders
Joe's Crab Shack: 10% off food and non-alcoholic beverages
Landry's Seafood: 10% off food and non-alcoholic beverages
Landry's Inc. Restaurants (select brands): 10% off food and non-alcoholic beverages
McCormick & Schmick's: 10% off food and non-alcoholic beverages
Oceanaire Seafood Room: 10% off food and non-alcoholic beverages
Outback Steakhouse: 10% off dine-in food and non-alcoholic beverages
Rainforest Cafe: 10% off food and non-alcoholic beverages
Saltgrass Steak House: 10% off food and non-alcoholic beverages
You may need to have your AARP card or membership number handy to be eligible for these savings. Also note, discounts may not apply to delivery orders and some restaurants may be closed or operating at reduced capacity due to COVID-19 restrictions.
AMAC member discounts
Join the Association of Mature American Citizens (AMAC) after your 50th birthday to access exclusive coupons and discounts on food, travel, insurance and more. Below are AMAC's current restaurant partners, where you can score up to 50% off an entree.
Friendly's: Three coupons available, including 50% off an adult entree with the purchase of one other entree.
Long John Silver's: Members age 55 and up save 10% to 20% (discount varies by location).
Papa John's: Get 25% off regular menu items ordered online.
AMAC members also can get a $25 restaurant gift certificate from Restaurant.com for only $5.
Disclosure: The information you read here is always objective. However, we sometimes receive compensation when you click links within our stories.
Like Article Add a Comment
Source: moneytalksnews.com
According to The Knot, the average cost of an American wedding was about $28,000 in 2019. Wedding photography and videography account for $2,400 and $1,800, respectively, or about 15% of the total.
Professional-grade wedding memories are expensive. If you're fretting about how you're going to pay for them, use these tips for getting cheap (or at least cheaper) professional wedding photography and videography to help save money on your wedding.
How to Save on Wedding Photographers and Videographers
Use these tips and tricks to reduce the cost of a professional wedding photographer or videographer without sacrificing the quality of the finished product.
1. Set Up a Photography and Videography Registry or Fund
You've heard of a wedding gift registry. Why not open a separate wedding media registry through which guests and apologetic no-shows can chip in toward your photography and videography costs? Some high-end photography and videography studios offer this service directly, or you can go the DIY route and launch a crowdfunding campaign on a crowdfunding site like GoFundMe.
DIY registries or funds offer more control over contributions. For instance, you can expand them to include general wedding and post-wedding expenses. They're a straightforward option if an affordable honeymoon is a top priority.
Plus, if guests contribute to your media registry or fund in lieu of gifts, you don't have to devote as much energy to regifting, returning, or selling unwanted gifts online after the big day.
2. Tap Your Personal Network
If you want your official wedding photos and videos to look truly amazing, you don't want to give the job to a random guest whose top qualification is an above-average Instagram account. But you may know or know someone who knows professional or qualified amateur photographers and videographers capable of producing professional-grade material.
Depending on the strength of your connection, you may be able to secure a friend or family discount for those services, even if they're already established as professionals in your area. The depth of this discount is sure to vary, but in my experience, 5% or even 10% off full price isn't unreasonable. For instance, we worked with my wife's former classmate, who'd recently established a professional photography business with her husband. They gave us a small discount and didn't charge for travel to and from the reception site, as was apparently customary for other jobs in their rural hometown.
Qualified nonprofessionals or rising professionals, such as recent film or visual arts school graduates without practices of their own, may be willing to work for even less, especially if they're able to build their profile or meet new prospects as a result. Just make sure they have adequate equipment, enough help, and enough prior experience to pull off a big job. As with anyone you hire, check out their previous work first.
3. Get Multiple Quotes to Compare Pricing and Service
When buying a car, you don't jump at the first offer you see. You compare multiple offers for comparable vehicles, weighing the relative pros and cons until you arrive at an informed decision you're reasonably confident you won't regret.
The scale of your wedding media investment might be smaller, but your decision's consequences echo even further into the future. Spend as long as it takes thoroughly researching photographers in your area and requesting quotes (if they don't provide pricing upfront) from all who seem in line with your general tastes and budget.
You can jump-start the research process by attending a wedding fair near the area you plan to get married. They typically occur before the wedding season begins and can attract hundreds of service providers (including photographers and videographers) from miles around.
4. Check References
Once you've narrowed your choices to a few finalists, thoroughly check them out, just as you'd run a Carfax report on a used car before buying it from a random person (or a sketchy dealership, for that matter). Read online reviews, evaluate their posted work, and connect with people who've recently used their services. And don't be afraid to ask them directly for references.
Though checking references can't reduce the final cost of your wedding photography and videography, it can increase the chances of satisfaction. You can't do your wedding over. Paying a bit more for wedding media you love is an investment in the fond memory of what's hopefully one of the happiest days of your life.
5. Get a Personal Use Release
Your wedding photographer and videographer is almost certain to keep the copyright to your media, meaning you can't use your wedding photos or videos for your own commercial purposes. But most photographers and videographers readily agree to personal use releases that allow clients to reproduce photos and videos for personal use, sharing among friends, and posting on social media.
If your provider's contract doesn't explicitly spell that out, ask them to add it. And think twice about working with any provider who says no. A personal use release removes any doubt about your ability to order reprints or copies in the future, ideally from a discount merchant (such as a drugstore) that charges much less than your photography or videography studio.
6. Stick to a Lower-Priced Package
Most wedding photographers and videographers offer basic packages like ceremony coverage plus pre-reception wedding party shots. These packages include fewer add-ons and frills, such as gratuitous shots of the bride in their wedding dress and personal shoots for bridesmaids. In some cases, their standard arrangement covers just the shoot itself plus an online gallery or image DVD.
By providing just the bare essentials and giving you the flexibility to choose how (and whether) to order additional products, such as bound albums or wall prints, the basic package gives you greater control over your total photography and videography costs. It also allows you to spread your investment over a longer period.
And if you choose to order additional products later, you can likely do so at a lower cost online or at a brick-and-mortar photo shop provided you have a personal use release.
Photography and videography package costs vary tremendously by factors such as provider quality and reputation and geography. Louisiana's Love Photography is an excellent example of the often vast discrepancy between basic and deluxe photography packages. Its basic package costs $999. The next-highest package costs $1,320, and the most expensive package costs $2,945.
7. Look for Professional (but Less Established) Independents
If your wedding media's quality is even a remote concern, resist the temptation to source an unvetted amateur from Craigslist or your wedding guest list, no matter how tight your budget. You're more likely to be disappointed with the results.
But it is possible to find professional-grade work at nonprofessional prices. Up-and-coming photography and videography professionals are often willing to work for less than what more established professionals charge. They're frequently just out of school or ready to move up from assistant roles and launch their own independent businesses. The best place to find them and verify their credentials is on reputable job boards like Indeed and freelance job websites like Upwork.
8. Book Early
Not all wedding photographers and videographers offer early-bird discounts, but it never hurts to ask. Just be realistic about what early means in the world of wedding planning, which is probably no later than six months before the big day. Make a point to reserve your wedding photography and videography around the same time you book your wedding venue if you're not arranging them through the same vendor.
9 Ask for an Off-Peak Discount
Many people get married on Saturdays. If you're willing to buck the crowd and organize a weekday (Monday through Thursday) wedding, ask photographer and videographer candidates for an off-peak discount. Depending on local customs and the providers' whims, it's not unreasonable to expect a 10% or 15% discount off the final bill for a midweek shindig. For example, our engagement photographer, who also did weddings, cut 15% off her bill for Monday-through-Thursday weddings.
The same principle applies to off-season weddings in regions with sharply defined wedding seasons. If you're scheduling a February wedding in Boston or Chicago, it never hurts to ask for a discount. But winter weddings are increasingly popular, so don't be surprised by a refusal. There are other potential financial benefits to weekday and off-season weddings too, such as venue and catering discounts.
10. Ask for Referral Discounts or Credits
Don't be shy about asking your photographer or videographer for referral discounts or credits. Many professionals readily offer kickbacks, either as a discount to the final service bill or credits for future orders, to current or prior customers who refer new business.
You don't have to shill for them at your wedding, but if you know anyone who's planning their wedding, you can suggest your photographer or videographer.
It works in the other direction too. If friends refer you to their wedding media provider, you may qualify for a discount. Discounts and credits vary by factors such as vendor and location, but $25, $50, or even $100 isn't outside the realm of possibility. For example, our engagement photographer offered $50 off for referrals who purchased photography packages.
11. Look for Custom Packages
In the rush to get ready for the big day, it's easy to surrender to the simplicity of preset photo or video packages, which tell you precisely what you're getting and how much it's going to cost. However, preset packages often include unnecessary services or add-ons, and providers aren't always willing to customize on the spot.
To avoid paying more than you should, look for providers that offer custom packages. These packages typically have minimal conditions. For example, you can choose how many hours the provider works on your wedding day, and you get all your images in electronic format. But beyond that, the services rendered and deliverables (such as albums) are up to you.
Larger custom packages sometimes qualify for discounts. For instance, Atlanta-based Amanda Summerlin Photography, a high-end photography studio, knocks 5% off custom packages of $3,900 or more, 10% off custom packages of $4,600 or more, and 15% off custom packages of $5,700 or more.
12. Book Photography and Videography With the Same Provider
Not all photography studios offer videography services, nor vice versa. But if you choose a provider capable of shooting professional-grade photo and video, look into combined photography and videography packages, which can cost hundreds of dollars less than separate photography and videography jobs.
13. Avoid Nonlocal Photographers and Videographers
Unless you're having a destination wedding in a remote area, avoid working with nonlocal providers. Out-of-area photographers and videographers often add mileage or airfare to the cost of their services, potentially raising the final bill by hundreds of dollars.
Even if your provider doesn't explicitly add travel costs to your final bill, they're likely built into its margins, and your total cost is therefore likely to be higher than what a comparable local provider would charge.
14. Work With Venue-Preferred and Recommended Providers
If you're planning your nuptials at a wedding venue that's accustomed to hosting weddings, inquire about preferred or recommended photographers and videographers.
Some venues have a de facto referral system. The venue drives business to favored vendors, who then offer discounted services or special packages. Some larger venues even have staff photographers and videographers that work closely with onsite wedding planners and build their fees into the total cost of the event. Further, such providers are likely familiar with the specific venue and already know the best sites for shots.
15. Limit Your Photographer's and Videographer's Hours
Some photographer and videographer packages include a specific number of hours of coverage, usually four to seven. Before hiring your provider and choosing your package, determine how long you need them to be present.
You probably want to capture high points like the walk down the aisle, exchange of vows, post-ceremony procession, and cake cutting, but do you really need professional shots of the rehearsal dinner, the bride getting ready, distant family members, or the later stages of your reception party?
Choose your package accordingly, and don't be afraid to ask for modifications. For example, if you don't need reception photos or videos at all, your provider may be willing to bail right after the customary post-ceremony wedding party shots.
16. Limit Your Photography and Videography Staff Size at Smaller Weddings
It isn't always possible with larger or logistically complex weddings with multiple shooting sites or challenging conditions. But if you expect fewer than 75 guests at your wedding and plan a relatively traditional ceremony and reception, your provider may be willing to send only a lead photographer or videographer, forgoing the assistants and interns who often help with setup, shooting, and equipment-ferrying at larger events. Depending on the provider, that could reduce your service bill by a few hundred dollars.
17. Order Fewer, Smaller Finished Photos
Because they're easier to frame and look better on display, larger wedding pictures typically cost a lot more than wallet-size or small frame-size (4-inch-by-6-inch or 5-inch-by-7-inch).
If you place a finished photo order with your photography studio, stick to the smaller sizes or purchase only a few larger photos for display in your home. Resist the temptation to send a large framed photo to every member of your wedding party or aunt and uncle who made it to the ceremony.
If you do want larger photos down the line, you can use your online proofs to place an order with a discounted service or buy from your provider when your budget has recovered from the trauma of the wedding.
18. Lose the Leather Binding and Hard Pages
Wedding photo albums are pricey — really pricey. When purchased a la carte, high-end wedding albums (think bound leather albums with rigid pages) can cost up to $1,000, according to Zola. Larger sizes are especially pricey.
While it's nice to have a weighty tome of wedding memories to pull out for your houseguests and future kids, it's possible to achieve similar results at a lower cost. Opt for a simpler magazine-style album with glossy, flexible pages. The quality of the quality is similar, as is the durability of the paper, which is critical if you plan to share your wedding memories with your children and grandchildren.
19. Don't Order a Proof Book
Many photographers offer proof books, which allow you to review the photos they've taken and select your favorites before ordering your final prints.
The catch is that you often pay for the proof book too. Our wedding photographer advised us we'd pay an extra $100 if we wanted a proof book. We told her to skip it and send us a selection of digital files to review (for free). Unless you wish to keep the book in lieu of a bound album, you can do the same.
20. Crowdsource Photos and Videos From Your Guests to Create an Album or Folio
If you want a professional-grade memento of your big day, cutting out the photographer or videographer altogether isn't a viable option. But you can still pair a less extravagant professional wedding package and fewer pro photos with a free or low-cost crowdsourced photo campaign.
Before the ceremony, either on your invitations or in your wedding program, invite your guests to snap photos or take videos with their smartphones and post them to social media or an online space.
Brides magazine has a comprehensive list of useful wedding photo-sharing apps, some more expensive than others. If you tell your guests to post photos to social media, give them a unique wedding hashtag to make it easy to find the photos. It's usually some variation on the wedding couple's names plus the year.
Make it clear they can be as creative as they please as long as they don't disrupt the service. Or let the pros handle the wedding and invite the guests to get artistic at the reception.
If you worry about phones or photos getting lost in the shuffle, place disposable cameras on each table and ask patrons to place them in a designated box or bowl when the festivities are over. The results won't win any awards, but they're sure to be entertaining — and as time goes on, even poignant.
21. Pay With a Cash-Back or Rewards Credit Card
No matter what your final wedding media bill comes to, you can marginally reduce the sticker shock (and budgetary carnage) by paying with a cash-back credit card. Though wedding photography and videography rarely fall into favored spending categories, such as grocery store or gas purchases, they're still good for the baseline earning rate.
For example, by paying your photographer and videographer with Chase Freedom Unlimited (unlimited 1.5% cash back on most purchases, including wedding photography and videography) or Citi Double Cash (unlimited 2% cash back) card, you can knock the final cost of a $2,000 bill down to $1,970 and $1,960, respectively.
---
Final Word
Professional photo and video services aren't cheap. The Knot's survey showed the average American couple spends more than $4,000 to document their special day when they opt for both.
Fortunately, your wedding day is probably going to be the high point of your professional media-buying career. Even if you and your spouse spring for newborn baby photos, periodic family portraits, and high school graduation photos for your kids, you won't ever spend as much on photo and video as you do on your wedding day.
Source: moneycrashers.com
High school graduation is a huge accomplishment. It's the culmination of 12 dedicated years in the classroom, but it's only the beginning of adulthood. Mighty Mommy shares seven tips to help your graduate transition to a fulfilling adult life.
to-do list."
Learning to manage your time is one of the most critical skills for leading a productive life. But it's also one of the most difficult to learn. I assumed that my kids would follow suit with my organizational skillset, but I quickly learned that most of them had no concept of managing their time.
We practiced this skill a lot in our household. We made lists, figured out how much time every task needed, and worked backwards to understand when something needed to start in order to finish on time. It takes practice, but once they hone in on the concept of being in control of their time, they will master the rest of their goals much more quickly.
Check out the episode Time Management Tips for College Students to prepare your high school grad for adult life.
Tip #2: Understanding personal finances is critical
When I was in high school (many moons ago), the emphasis was on algebra, calculus, and geometry. I don't recall one class that focused on personal finance. That has changed a bit now, but if there is one critical skill I'd wish for every high school graduate to take seriously, it's getting a handle on personal finance.
Learning to manage your money means understanding how to keep track of your income and expenses. This includes managing a debit and credit card, setting a budget, saving money, and investing.
Quick and Dirty Tips' financial expert, Laura Adams, has lots of practical advice for all stages of life. Her popular episode, How to Create a Personal Finance System for Money Success, has tangible steps to understand and navigate your finances.
Tip #3: Communication skills are key
Financial know-how is essential, but another winning skill for all high school graduates is the art of communication. Good communication skills include speaking, listening, writing, and non-verbally using body language, eye contact, and even posture.
Effective communication takes practice, but now is the time for your young adult to pay attention to how he/she interacts with others so that this skill can be groomed and perfected. It will be critical for their professional and personal success.
Check out this helpful video, 5 Conversation and Communications Tips (With Exercises), that can help anyone kick their communication skills up a notch or two!
Tip #4: Don't let stuff manage your life
It's easy to get swept away with the novelty of having the latest electronics, smartphones, sports equipment, trendy clothes, and other accessories. But at what cost? In my episode Here's What Happened When I Became a Minimalist Mom, I share the down-to-earth benefits of not letting material possessions rule your life. If your student can grasp this now rather than later, he/she will live a well-intentioned life.
It's easy to get swept away with the novelty of having the latest electronics, smartphones, sports equipment, trendy clothes, and other accessories. But at what cost?
Tip #5: Your health is not optional
I remember how alive and free I felt after graduating high school. I was active, healthy, and full of energy. Because I was young and wasn't sick often, I know I didn't prioritize my health.
I consider myself lucky to have sustained good health with such a carefree attitude, but I remind my eight kids never to take their health for granted. As young adults start venturing into the world independently, they need to recognize the importance of maintaining good health, in both body and mind. Have open and candid health conversations with your kids, including recognizing the risks of substance abuse and sexual health and safety.
For more excellent health and fitness advice, check out the Get-Fit Guy and Nutrition Diva podcasts.
Tip #6: Never stop learning
When we graduate from high school or college, many of us are ready for a learning break. It's normal to want to walk away from textbooks, structured curriculums, and course deadlines, but we all soon realize that life is a learning journey.
Quick and Dirty Tips' workplace expert Rachel Cooke (aka the Modern Mentor), shared some excellent advice on how to stay hungry in the quest to learn more in her episode The 2021 Career Wisdom You Need from Ruth Bader Ginsburg. She shared a great quote from the late Supreme Court Justice in response to a letter from an eight-year-old girl:
"Reading is the key that opens doors to many good things in life. Reading shaped my dreams, and more reading helped me make my dreams come true."
There are endless ways to fill your mind with new information. Listen to podcasts, find topics that interest you on YouTube, explore your local library, visit museums, attend free talks at nearby universities. The only limits are the ones created by you.
Tip #7: Cultivate meaningful relationships
High school is usually a time when kids bond and make some of their best friends. Once graduation happens, however, kids head off to different colleges or paths in life. New friendships will blossom after graduation, along with romantic partners, work relationships, and professional interests.
Those of us who have had lifelong besties are truly blessed. In addition, having a close relationship with siblings, cousins, and other family members is also essential.
Encourage your young adult to nurture quality friendships and special relationships as part of his/her's transition into the world of adulthood. The Mayo Clinic's article, "Friendships: Enrich Your Life and Improve Your Health," explains that solid friendships play a significant role in promoting our overall health and offer suggestions on cultivating these relationships.